Locally owned and operated. Our electrical team is led by our 25+ year Master Electrician. Our electricians have commercial and residential knowledge and experience. We provide top notch electrical service & installation. We're here to keep your home and business safe and comfortable.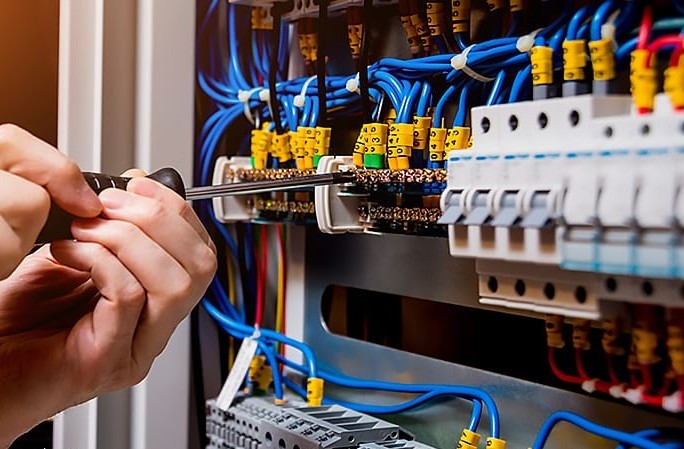 We provide a wide range of services including:
Hanging ceiling fans and light fixtures
Electrical vehicle charger installations
Generator installations and service
Indoor & outdoor lighting upgrades
Electrical panel service & replacement
Emergency lighting upgrades
Home inspection repairs
Renovations and remodels
Whole-house surge protector installations
Attic & bath fan service & installation & more!
Residential Electrical Services
Our licensed electricians are ready to provide you ith quality service including electrical installations, electrical repairs, and maintenance. No matter the size or the project, large or small our electricians are ready to work for you. From lighting upgrades to electrical outlets to ceiling fans and generators, indoor and outdoor lighting, electrical panel replacements, electric vehicle charging stations & more!
Commercial Electrical Services
Our licensed electricians have commercial experience to keep your business running smoothly. From electrical diagnostics, EV charging stations, electrical repairs to generator installations and service, upfits and much more. We understand that special arrangements may need to be made to perform work and we're okay with that.
Lighting Repairs and Installations
Our electricians can help you whether you have an issue to repair or looking to upgrade. From chandeliers, ceiling fans, recessed lights, wall sconces, under cabinet lighting, bathroom lighting & bath fans, hiding TV wiring, installing receptacles, EV chargers and more. Our electricians can assist you with all your residential and commercial needs.
Outdoor Lighting Upgrades
Our electricians have the knowledge and experience assist you with any outdoor lighting project. From installing motion sensors and outdoor switches to wiring and GFI circuits to electric heaters, upgrading your existing outdoor lighting and more.
Back-up Generator Installations
Being without power in the heat of the summer or the peak of winter is not ideal for anyone. Our electricians are here to help you plan ahead to keep your home or business comfortable. Investing in an emergency generator offers the perfect solution at an affordable price. Being without power long term due to severe weather, hurricanes, downed tree limbs is not ideal. Generators help keep you in the norm as best as the situation allows. Some can be at serious risk and need power for medical devices. From keeping us comfortable during extreme weather, to keeping our food from spoiling. Generators are the little superheroes we're grateful for.
Breaker Panel Upgrades, Installation and Repair
When it comes to your home or business, electricity is #1 for safety. Your electrical panel is a small box that contains various circuit breakers and other components that transfer electricity from the utility company to the individual appliances and lights in your building or home. Over time, this box may become corroded, have loose connections and dust or debris which may cause a malfunction. This puts your home or business at risk for power outages, tripped circuit breakers, and other inconvenient situations.
To protect your electrical panel, you need to maintain it regularly. This involves keeping the lid shut, and checking periodically for signs of rust, moisture, and dirt. You should have routine maintenance done by a professional electrician at least once every three years. This can help ensure the system is functional, clean, and most importantly, safe. Excessive dust and corrosion can wreak havoc on your electrical panel. By keeping it clean and maintained, you can avoid stressful situations from a malfunctioning electrical system. We will inspect the panel for signs of rust, wear and tear and will check all necessary connections.
Wiring Upgrades and Repair
The wiring in your home or business is just as important as your electrical panel. Keeping you and your family safe is our #1 priority. Wiring is best to be replaced in older homes, remodels and panel replacements. It is best to replace any wiring leading to new outlets, remodels, recessed lighting, upgraded technology.
Electrical inspections
Electrical inspections are important and are recommended. Whether you recently purchased a new home or looking to upgrade. It's a good idea to have a professional inspect the electrical at your home or business. Electrical fires are just one of the major effects of an inadequate and out of date electrical system. Give us a call today to have one of our electrical professionals perform an inspection to make sure your home or business is up to date and safe.
Electric Vehicle Charging Stations
Whether you have an electric vehicle or looking to purchase one, we are here for you. We can assist you with your EV charger upgrade or new installation. We are a Tesla Certified Electrician for Wall Connector.