The Best Controls and Thermostats Company in Bluffton & Beaufort County and Surrounding Areas Since 1972
Founded in 1972, Howell-Chase Heating & Air Conditioning has spent decades analyzing the latest advancements in HVAC technology and offering them to our customers. If you're looking for a relatively cheap yet effective way to gain more control over your comfort while saving energy, upgrade your HVAC system with a smart thermostat.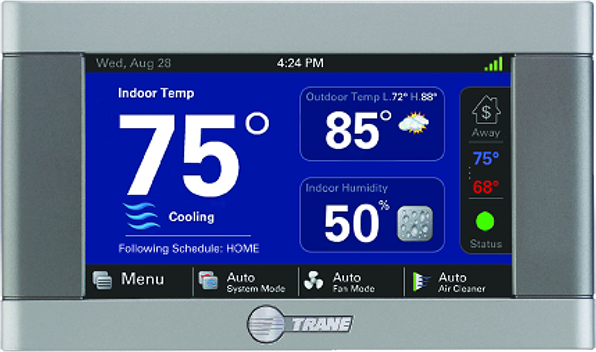 Control and Thermostat Installations in Bluffton, South Carolina
Are you still manually adjusting your home's thermostat? You no longer have to get out of bed to turn the thermostat down a few degrees if you're feeling hot. Today's HVAC technology allows you to change your home's temperature via an application on your smart device. You can use a smart thermostat to program multiple cooling or heating schedules for every day of the week. Some controls can automatically adapt to your daily habits.
Smart controls and thermostats do more than automatically regulate your home's temperature, though. They can alert you when it's time to change a dirty air filter or to schedule preventive HVAC maintenance. They can also send you usage reports that provide detailed analysis about where you're wasting and saving the most energy. As a result, you optimize your cooling and heating to save money and reduce your carbon footprint.
Trust Us to Transform Your House With Controls and Thermostats
At Howell-Chase Heating & Air Conditioning, our NATE-certified comfort specialists specialize in installing the latest controls and thermostats. We have a design center at our office where customers can learn about the equipment and accessories we carry, and we want you to have a hands-on experience with our products before investing in them. Your comfort is our priority, and we provide a 100-percent satisfaction guarantee.
Smart Thermostats for Homeowners in Southeast South Carolina
It isn't hard to transform your house into the smartest home in Bluffton when Howell-Chase Heating & Air Conditioning is by your side. Our NATE-certified comfort specialists are pleased to help homeowners in these and the surrounding areas:
Beaufort
Bluffton
Brays Island
Fripp Island
Hardeeville
Hilton Head Island
Okatie
Parris Island
Ridgeland
Bloomingdale
Richmond Hill
Pooler
Port Wentworth
Saint Helena Island
Savannah
Sheldon
Do you want to learn more about the latest innovations in the HVAC industry? Contact Howell-Chase Heating & Air Conditioning today. We're a Trane Comfort Specialist that carries and installs state-of-the-art controls and thermostats, and we're standing by to make sure you're saving energy and money when cooling or heating your home.